Story of the Founder
Ms. Mai Bich Thuy, the Founder of Reigate Grammar School Vietnam (RGSV), found and chose the land of the school site in 2008.
She then embarked upon a strenuous journey with stern resilience, perseverance, and professionalism to lead the school to achieve from one success to another. 
Ms. Thuy was born in Hanoi in 1971 and grew up during the hardest post-war time in Vietnam as the country suffered from shortage of food and essential goods. However, her family managed to accord her the best education possible and she went to the best school in town. Ms. Thuy was well aware that her friends and many other children were not as lucky and could not afford schooling. This realisation nurtured her dream to become a teacher, which grew profoundly as the years passed.
Thanks to hard work and innate talent, Ms. Thuy went all the way from high school to Hanoi Foreign Trade University and graduate magna cum laude in 1993 and was retained by the university as a lecturer - a rare honor accorded to undergraduates. Thanks to her experience at Hanoi Foreign Trade University, Ms. Thuy came to realise the importance of creating a great education and educational environment and became more ambitious in having her own system rather than being part of an existing system.
Over the many years since 1993, Ms. Thuy's passion for education led her to conduct several educational projects in Vietnam, that now have connections to the UK educational platform. 
Ms. Thuy decided to start her international school project - International School of Vietnam (ISV) in 2007 after her feasibility study was approved by Hanoi Municipal Authority and the Ministry of Education and Training. It took two years for other paper work, fund raising, selection of school site, purchase of land, school design and the actual construction of the school. Ms. Thuy's unlimited source of strength and perseverance kept her on the right track in the face of numerous difficulties, challenges and even obstacles. Between 2010 to 2012, the design and construction of ISV gradually evolved to meet International Baccalaureate standards. The site soon became acknowledged by environmentalists and social activists to meet "green" standards and promote sustainable goals. Ms. Thuy's dream-turned plan to establish an international school, open to both local and international students thus materialised.
ISV officially opened its doors in 2013-2014 academic year with only a handful of students; as a candidate IB-PYP School. In the following few years, under the constant leadership of the Founder and the Board of Management, the school successfully attained accreditation from Cambridge Assessment International Education (CAIE). And, as planned, ISV was fully authorised to be an International Baccalaureate (IBO) PYP school in early 2016. As the students' numbers increased, ISV achieved IB Diploma Programme status in 2018. Student diversity grew, and the school witnessed an intake of a broad range of nationalities. This opportunity enabled the school to develop its international-mindedness and policy structures with its community in mind.
In addition to ISV, and over the same time period, Ms. Thuy developed the dual programme of Cambridge A-Level and Vietnam national high school programme, initially executed in Chu Van An High School, Hanoi. From 2016 to 2019, ISV assisted Hanoi DOET in organising the first two classes. In 2019, the students graduated with outstanding results and were offered tertiary opportunities from prestigious universities in Vietnam and worldwide.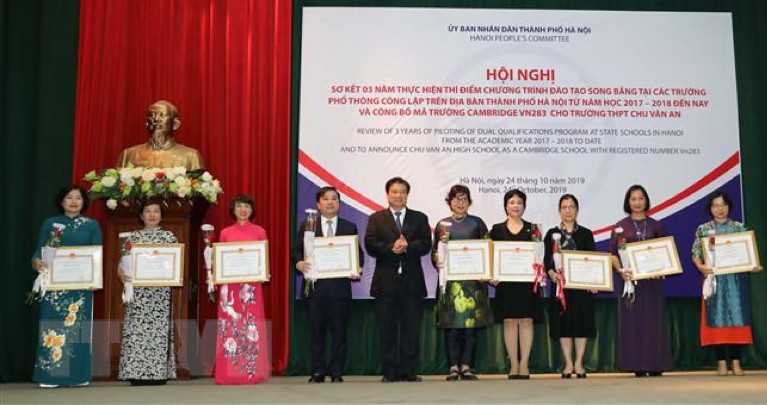 As ISV's reputation was growing, Ms. Mai Bich Thuy took one further step of making it internationally recognised by entering a collaboration agreement with Reigate Grammar School (UK) - one of the top 50 independent schools in the United Kingdom. Following this agreement, ISV will be renamed as Reigate Grammar School Vietnam.
Ms. Mai Bich Thuy has gone a long way from a dreamer to a practitioner, from entrepreneur to educator (edupreneur). She has taken great care of and created great opportunities for children of thousands of families, Vietnamese and international.
ISV's journey all began with the founder's great vision for outstanding education in Vietnam. She has been and will be devoting her intellect, energy, and enthusiasm for education, for ISV's new plans and projects, all for one goal – to contribute to the development of the young generation. It is also her way of life - to pay back what she has been endowed with. But she pays back generously.