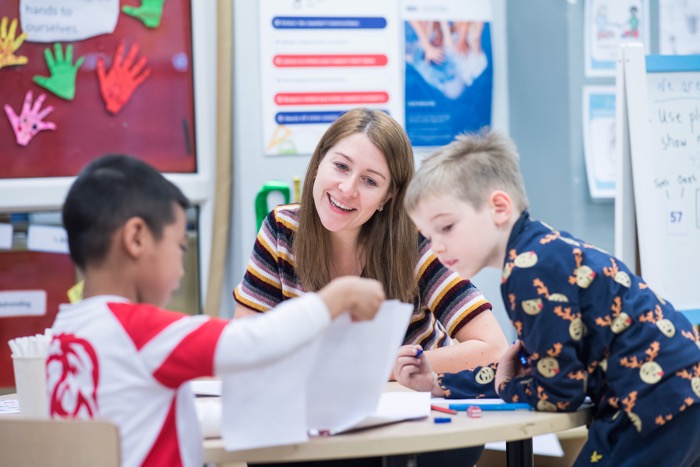 Vacancies
About Reigate Grammar School Vietnam
THE SCHOOL
Reigate Grammar School Vietnam is a not-for-profit international school that blends the very best of a traditional British independent school education with Vietnamese values and principles. The school comprises the Secondary School, educating students aged 11–18, and the Preparatory School, educating students aged 3 to 11.
Having recently transitioned from the International School of Vietnam to Reigate Grammar School Vietnam, the school has taken the first steps towards achieving our aim of becoming the best school in Vietnam. A journey that we hope you will be excited about joining us on. The school will soon be the first UK independent school brand in Vietnam to become a COBIS accredited school.
RGS Vietnam is built on nearly 350 years of history and tradition and, as a result, we have very close ties with our sister schools, Reigate Grammar School, Reigate St Mary's and Reigate Chinthurst in the UK. As a well-established international school in Hanoi, RGS Vietnam benefits greatly from the RGS reputation for educational excellence. In recent years, RGS UK was the first ever school to be rated 'Exceptional' by the Independent Schools Inspectorate; was awarded UK School of the Year for Pastoral Care and Wellbeing; received the Tatler UK School of the Year 2020-2021; and very recently was awarded UK School of the Year for Social Mobility.
Above all, RGS Vietnam is a very happy place. A place where staff and students are valued, fulfilled and ambitious. We take great satisfaction in being a warm, respectful and inclusive family, where our staff are passionate, welcoming and supportive and our students are inquisitive, enthusiastic and kind.
SAFEGUARDING
All roles advertised will involve contact with children. Reigate Grammar School Vietnam is committed to safeguarding and promoting the welfare of children and young people and expects all staff to share this commitment. All applicants should read the school's safeguarding policy (available on our website) and are required to declare any criminal convictions, cautions or disciplinary proceedings related to young people. Applicants must be willing to undergo child protection screening appropriate to the post including checks with past employers and such services as the UK Disclosure and Barring Services. 
The School is permitted to ask job applicants to declare all convictions and cautions (including those which are "spent" unless they are "protected" under the DBS filtering rules) in order to assess their suitability to work with children.
EQUAL OPPORTUNITIES
Reigate Grammar School Vietnam is an equal opportunities employer and welcomes applications from appropriately qualified persons from all backgrounds. We are dedicated to creating and sustaining an environment that values individuality and difference and celebrates the diversity of both staff and pupils by fostering perseverance, tolerance and integrity. We believe in equal opportunity for everyone, irrespective of age, disability, gender, gender reassignment, marriage or civil partnership, pregnancy or maternity, race, religion or belief, sexual orientation or socio-economic background. Candidates will be assessed against relevant criteria only (i.e. skills, qualifications, abilities, experience) in selection and recruitment. We know that more diverse teams are stronger teams, and that the more inclusive we are, the more our staff and pupils will feel a sense of belonging and will thrive.
THE LOCATION
RGS Vietnam is located in the vibrant city of Hanoi, the historically rich and chaotically energetic capital of Vietnam. The city's many lakes, parks, museums, French colonial mansions, and amazing food scene provide opportunities for countless activities, as well as having a wealth of nearby areas to explore. Hanoi is a great base for seeing some of Vietnam's most dramatic scenery, although you could spend a lifetime just exploring the city and barely scratch the surface.
Thank you for your interest in a post at Reigate Grammar School Vietnam. Details of posts currently available can be found by following the links below.
Current positions:
---
Teaching Vacancies
Preparatory (due to expansion)
Secondary (due to expansion)
Secondary English Language & Literature Teacher
Secondary & DP Business Management Teacher
Secondary Teacher of Science (Chemistry specialism)
Secondary Teacher of Physics (A-level specialist)
APPLICATIONS
All applications should be submitted on TES. All applicants selected for an interview will be contacted within two weeks of the deadline. 
All Stage 2 shortlisted candidates will be required to complete a 'Suitability to work with children: self-declaration form'. This form must be completed, signed, and returned to HR prior to the interview taking place.
Non-teaching Vacancies
APPLICATIONS
The recruitment process will proceed as follows: All applications should be submitted to local.recruitment@reigategrammar.edu.vn. They should consist of a CV and a cover letter. Interviews will be conducted if your resume is qualified.