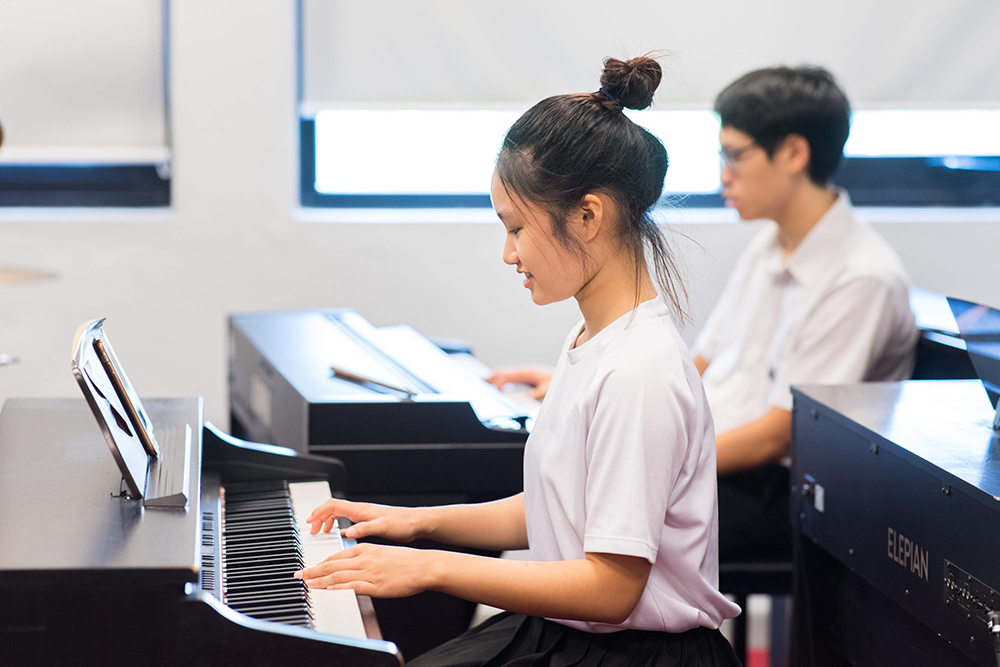 Group 6: The Arts
Visual Arts
Visual Arts continually creating new possibilities and can challenge traditional boundaries. This is evident both in the way we make art and in the way we understand what artists from around the world do. Theory and practice in visual arts are dynamic, ever changing and connect many areas of study and human experience through individual and collaborative production and interpretation.
New ways of expressing ideas help to make visual arts one of the most interesting and challenging areas of learning and experience. The processes of designing and making art require a high level of cognitive activity that is both intellectual and affective. Engagement in the arts promotes a sense of identity and makes a unique contribution to the lifelong learning of each student. Study of visual arts provides students with the opportunity to develop a critical and intensely personal view of themselves in relation to the world.
Music
Music is an essential part of the human experience and a uniquemode of creativity, expression and communication. Music is both functional and meaningful, and its vitality and complexity enriches our lives. Though music is rooted in specific societies and cultures, it also transcends—and often connects—them. Music not only offers a way of understanding the world, but also a means by which we can express and share our understanding of it with others.
Music's many rich histories continue to evolve through individual and collaborative contributions. In the past, as in our contemporary and increasingly digital world, music responds to, and is shaped by, new and emerging technologies and approaches.
The study of music encourages inquiry into creative practices and performance processes. Music study develops listening, creative and analytical skills, as well as encouraging cultural understanding and international-mindedness. In this way, music is a catalyst for expanding critical thinking—a crucial life skill. When we understand others and ourselves through music, we are empowered to make positive and effective change in the world.
In this course, students and teachers engage in a journey of imagination and discovery through partnership and collaboration. Students develop and affirm their unique musical identities while expanding and refining their musicianship.
Throughout the course, students are encouraged to explore music in varied and sometimes unfamiliar contexts. Additionally, by experimenting with music, students gain hands-on experience while honing musical skills. Through realizing and presenting samples of their musical work with others, students also learn to communicate critical and artistic intentions and purpose.
As students develop as young musicians, the course challenges them to engage practically with music as researchers, performers and creators, and to be driven by their unique passions and interests while also broadening their musical and artistic perspectives.