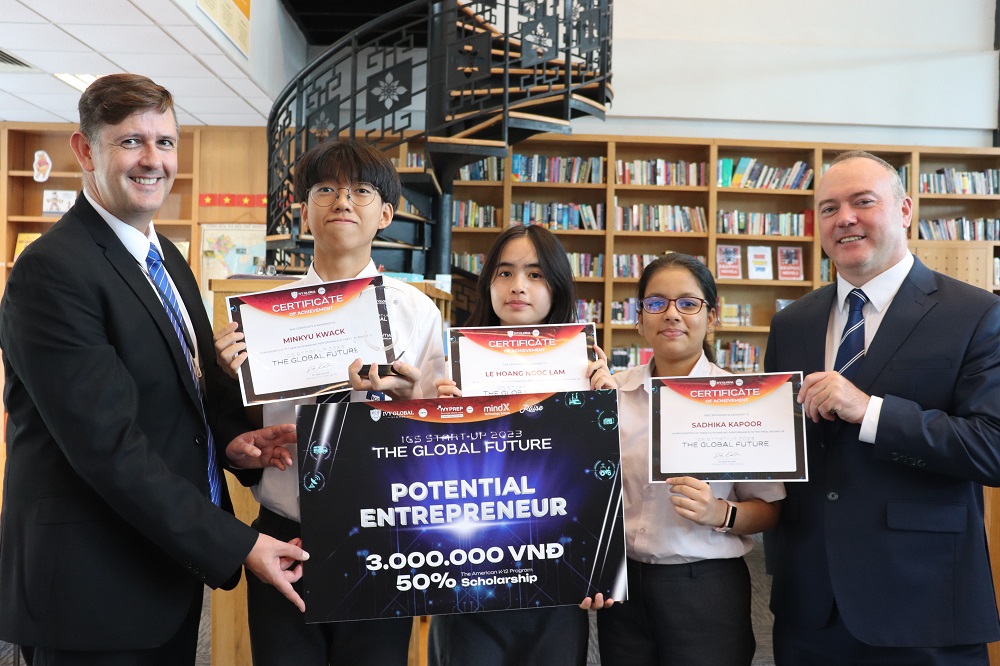 Year 11 Students Winning 2nd Place in the Start Up 2023 The Global Future Competition
Three of our brilliant Year 11 students: Sadhika KAPOOR, Lam Ngoc Hoang LE and Minkyu KWACK, participated in Start-Up 2023 The Global Future competition organised by Ivy Global School. This is a business case competition entirely in English for high school students, and our Year 11 students bravely resigned under the guidance of RGS Vietnam business teachers and Mr Lam Ngoc Khanh (co-founder and CEO of ZenKlass).
Through their dedicated effort and brilliant skills, our team of Year 11 students excellently came 2nd with the idea for a dance app called 'Groove & Go' among 200+ teams that entered the competition. 
Despite this being the first business competition they participated in, RGS Vietnam students confidently presented their idea, appeared bravely on stage and showed harmonizing teamwork skills. Everyone was impressed by their talent and self-effectiveness. Talking about the experience of joining such a huge competition and gaining a valuable prize, Sadhika KAPOOR representing the team said: "We were thrilled by the new skills we gained to think like real-world entrepreneurs in a competitive market. The main highlights for us were creating our own app and staying resilient through the technical difficulties we faced on the final day. All in all, we look forward to our future adventures!"
Sadhika, Lam and Minkyu had successfully achieved their goals despite being the first time challenging themselves in a business competition. They are examples of hard-working, diligent and studious youngsters that RGS Vietnam is very proud of. Congratulations once again to our Year 11 students for their amazing work, and we are thrilled to see even more success in the future.