Khue Anh - "Experience things I've never experienced before"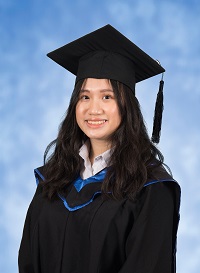 Khue Anh's journey at ISV has let her experience many different things that she'd never thought she would do before.
She has created amazing relationships with her teachers, classmates, and friends, which was the "best part about her experience at ISV", Khue Anh said. Aside from the amazing teachers who always provided her the best support with the IGCSE and IB Diploma programmes, she also has admirable friends who have become an essential part of her life.
Khue Anh's whole academic life has changed drastically since moving to ISV. The classes were much more discussion-based and she had more liberty in choosing subjects. She actively participated in many extracurricular activities, such as joining the girls' basketball team, participating in the  Model United Nations (MUN) for the first time despite being initially afraid, and ended up getting to help organize MUN conferences at ISV. All these activities gave Khue Anh unforgettable experiences that fulfilled her life outside of academics, brought her relationships that she values for the rest of her life, as well as enhanced her university application. These are the things she never once thought that she would've done, but at ISV, life really turned a different path for her.
The IB Diploma programme was an unforgettable journey for  Khue Anh, as she admitted that it was definitely a challenge for her because the Diploma Programme required students to truly be well-rounded and be busy throughout the two years (not just during the examination season) due to Internal Assessments, Extended Essay, Theory of Knowledge, and CAS. Despite encountering difficulties, Khue Anh had successfully overcome the IB Diploma  with an impressive score of 42/45. Talking about her success, Khue Anh said the biggest tip for current or future IB students is to treat the IBDP as a long haul. "There are so many components in the DP that are all important in one way or another, so you should get things done as soon as possible and spread your workload evenly so you don't end up cramming everything at the same time", she said.
All of these wonderful experiences at ISV have led Khue Anh to Bowdoin College in Maine, USA. Khue Anh shared that her university application journey was definitely interesting and she had faced multiple challenges along the way, but the amazing support from Ms. Alyssa, her University Counselor, helped her navigate through all aspects of the process, from essays to financial aid. 
Finally, Khue Anh gave ISV's future students a piece of wise advice: "Don't let the scholarship exam intimidate you from applying for the scholarship! Even if the results are not to your satisfaction, it would still be a great learning experience and an opportunity to challenge yourself".