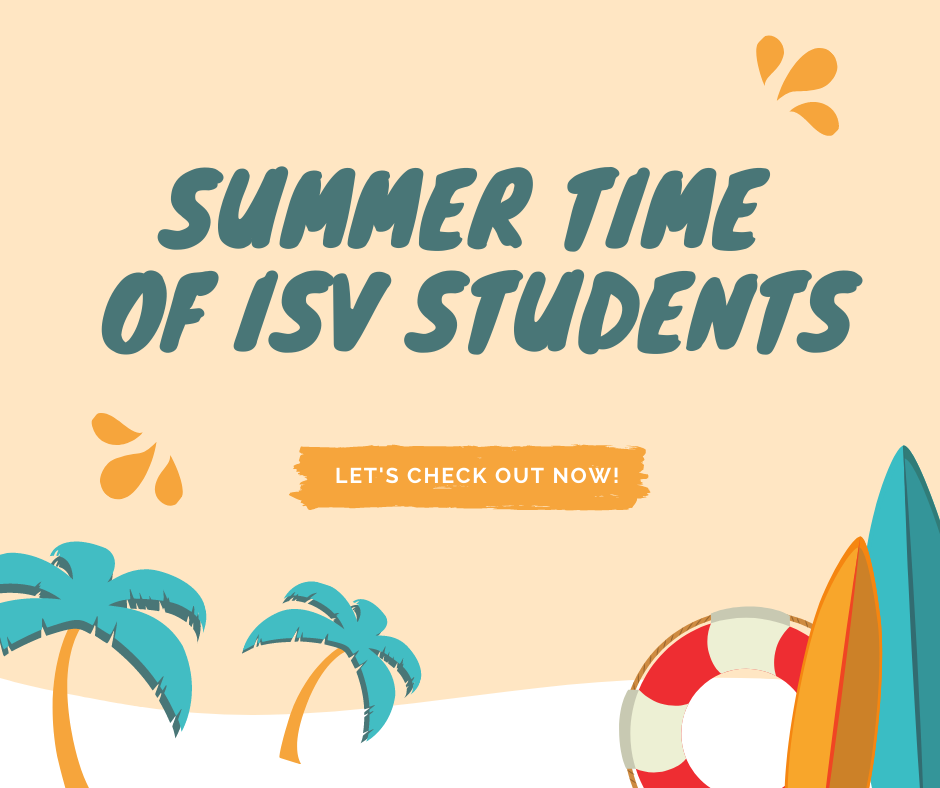 ISV Students' Learning Experiences During Summer Vacation
Summertime is the best occasion for various children's activities. Students of the English class at ISV spent this quality time on world exploration, self-improvement, and volunteering work. Today's article will have a clear look at what they have done during this summer.

1. Attending summer camps
Summer camps bring valuable opportunities for students to develop their vital social, emotional, and cognitive skills; best of all, having memories that last a lifetime.
Minh Nhat Do (Grade 8C) wrote about his camp in Moc Chau:
2. Reading for pleasure
Students have spent a precious amount of time each day on reading, not only to attain new knowledge but also to develop a good habit that supports their learning at school. 
Sadhika Kapoor (Grade 8A) set a 32-hour reading goal to read three books. Below is her sharing about one of her favorite - Oliver Twist:
She also shared what she has learned through these books on her Reading Log and Vocabulary Log.
3. Approaching new ideas with TED Talk
TED Talk is partly a series of activities to boost creative thinking during the summer break. With various videos from expert speakers on diverse subjects from science, business, education to personal growth, students at ISV are required to watch and share their thoughts via 4 Lines of Inquiry.
Huyen Bach (IBDP English B) presented all her watched videos at a well-organized table with her reflections. To see details of her sharings, please click here.

4. Writing letters 
Writing is a powerful tool, especially to enhance critical thinking and self-expression. 
Let's take a look at ISV students' writing:
Chau Bao Pham (Grade 10B) wrote letters anonymously to encourage everyone to smile every day. To read her letters fully, please click here
Duong Anh Nguyen (Grade 10B) wrote two letters for herself now and at the age of 27. To read her full letters, please click here.
Ngoc Bao Pham Tran (Grade 8C) shared her thoughts about online learning and her wish to return to school full of beautiful memories. To read her letters, please click here.
5. Online activities
To ISV students, summer means leisure time to gain knowledge and do volunteering work through online platforms. 
Meditation online course: Let's check what Sadhika Kapoor (Grade 8A) has learned from this MOOC course. 
Helping hungers via FreeRice app  
This summer, ISV students took part in a community service project called FreeRice. It is a mobile app designed by Union Nations, allowing users to donate rice grains for the poor by answering questions in different categories such as English, Humanities, Geography, and so forth.
Check out all students' work during the summer here.