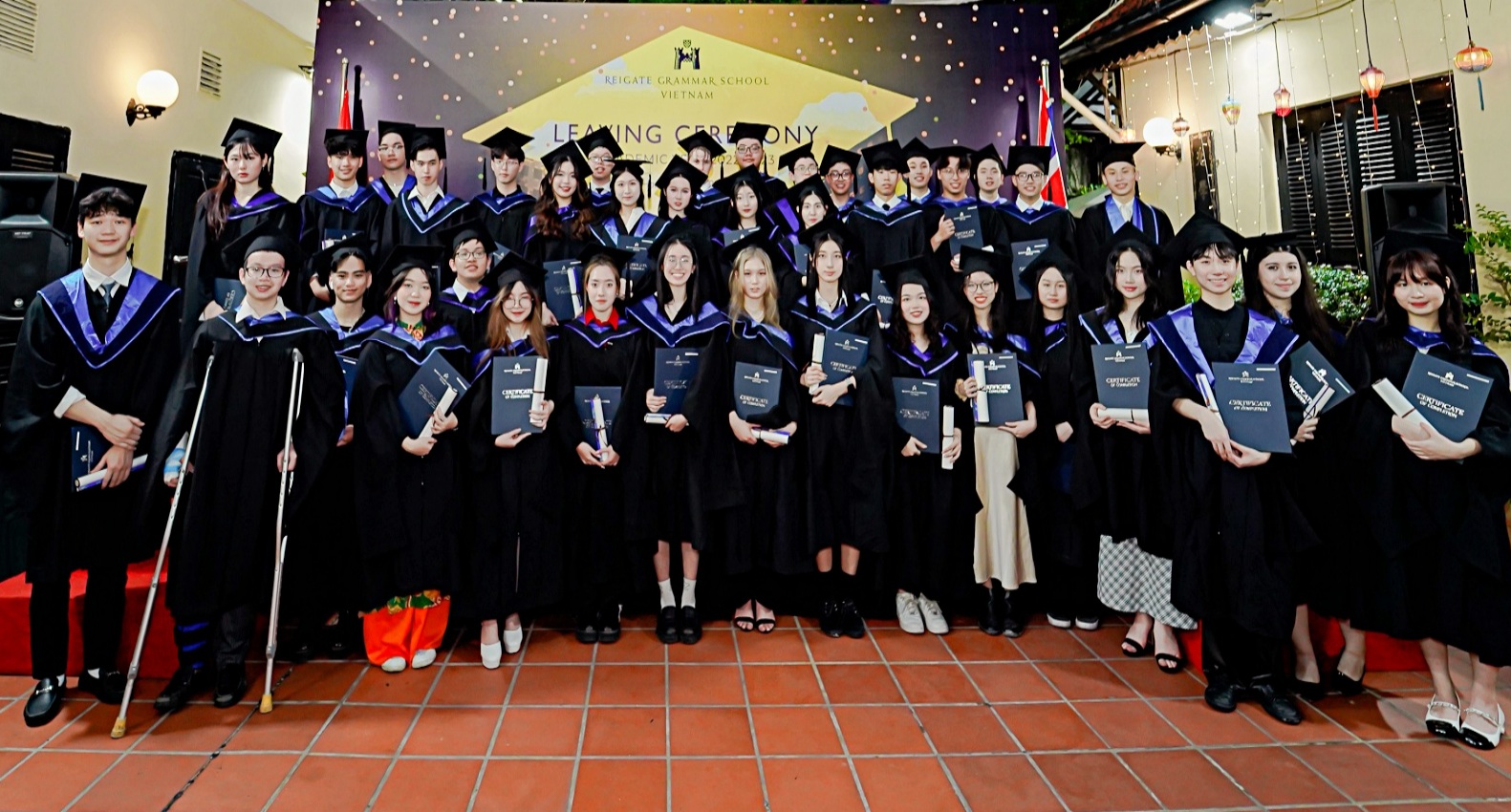 IBDP Leaving Ceremony at British Ambassador's Residence in Hanoi
Yesterday, June 9, 2023, Reigate Grammar School Vietnam held the Leaving Ceremony for its Year 13 graduates of International Baccalaureate Program  at the of the British Ambassador's  Residence in Vietnam, a prestigious place commensurate with the excellent achievements of the students.
Reigate Grammar School Vietnam (RGS Vietnam) is proud to be a partner of Reigate Grammar UK (RGS UK), a school known for its excellent history with more than 350 years in the UK.
RGS Vietnam has received the valuable support and guidance from RGS UK in providing a high quality education. The Leaving Ceremony is a memorable occasion for students, their families, and the RGS Vietnam community. They are all delighted by the hard work, commitment and academic success of their students during their time at RGS Vietnam.
The ceremony was honored with the presence of British Chargé d'affaires in Hanoi, teachers, staff and parents, all of whom congratulated the graduates on their achievements.
Chargé d'Affaires Marcus Winsley applauded the students' academic excellence and praised the partnership between RGS Vietnam and RGS UK in successfully delivering the British world-class education at RGS Vietnam. He emphasised the importance of international partnerships in cultivating a global perspective and creating the leaders of tomorrow.
It was a joyous occasion for the graduates as they received their certificates of completion at the ceremony, celebrating the end of their high school journey.
The event also included motivational speeches by school leaders, teachers and students, sharing their memories of RGS Vietnam and sending appreciations to teachers, mentor,  parents for their unwavering support that has helped the students get where they are today.
RGS Vietnam's IBDP leaving ceremony at the British Ambassador's residence demonstrates the school's dedication to providing a well-rounded education that prepares students for success in the international arena.
When students graduate from high school, they enter a new journey while being empowered with the knowledge, skills and values by RGS Vietnam and its UK  esteemed partner, RGS .
About Reigate Grammar School Vietnam: Reigate Grammar School Vietnam is a prestigious international school located in Hanoi, Vietnam. It is affiliated with Reigate Grammar School UK, a well-known educational institution in the UK with a long history. RGS Vietnam offers a comprehensive curriculum, including IBDP, and focuses on providing a nurturing environment for students to thrive academically, socially and emotionally.