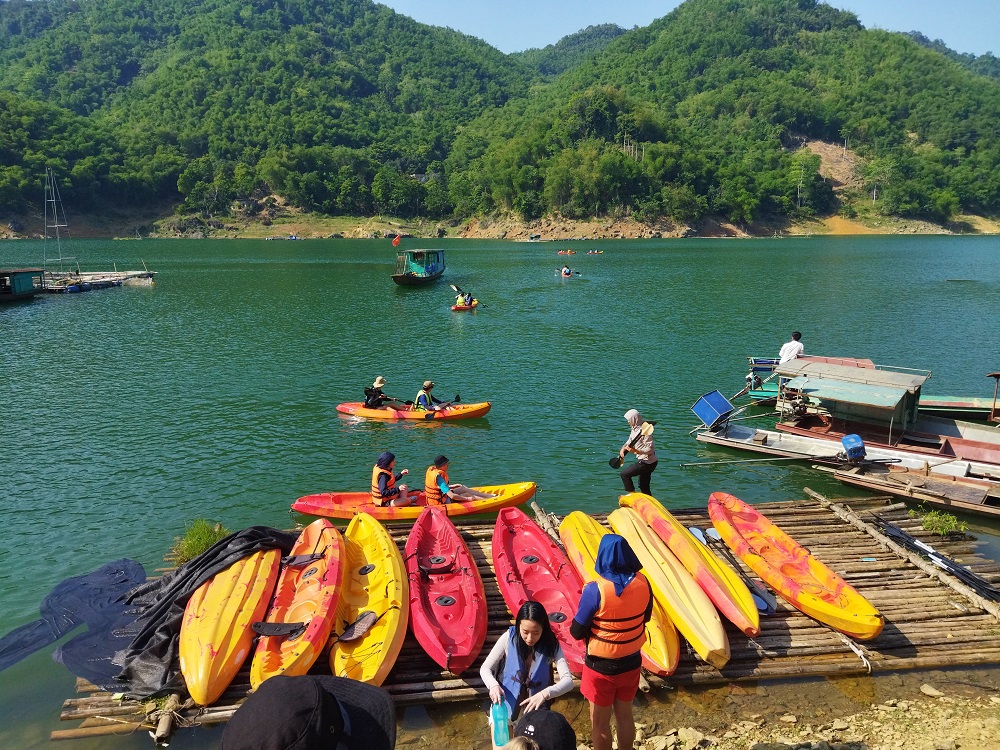 Grade 11 (Year 12) Trip To Da Bia
On 4th of May and Mr Hayden in his Star Wars t-shirt to celebrate, 38 excited students and four even more excited teachers set off to Da Bia, on the northern shores of Hoa Binh Lake. The first part of the trip involved a coach ride to the port before taking a serene ferry ride across the vast expanse of water. It was a lovely calm ride with beautiful blue skies and a perfect opportunity for taking photos and of course taking a few selfies. 
Da Bia is a Community-Based Tourism project that encourages the community to work together and share revenue. So upon arrival we were treated to a delicious local lunch prepared by a family. From this point onwards, a different family prepared food for us each meal, sharing the workload and wealth among the villagers. 
Our stilt-house homes had space for around ten students to enjoy communal living and everyone was spoilt by having their own luxurious mosquito net. We dropped our bags and split into two groups. All activities were carried out in these groups until we reunited each evening to share stories from the days adventures and catch-up on the gossip of what we might be experiencing the following day. 
So, while one group went for a paddle in the kayaks the other endured a gruelling hike. The hike was not too far in distance but challenging due to the steepness and technicality of the slope. The students battled tiredness, the heat and unsteady ground to complete the hike, which was easily the most challenging part of the camp, trekking to Mo Hem Village. Meanwhile, the kayakers learned how to paddle, enjoyed some races, games and were able to finish off with a dip in the lake, refreshing under such blue skies. 
Day 2 saw a switch in activities, completing hiking and kayaking again in the morning. However, the afternoon was filled with a cycling activity and "camp craft", again, to be rotated the following day. Cycling was a hilly affair! There seemed to be more uphills than downhills as we pedalled our way along mountain passes through villages and plantations to be greeted with fantastic views of Hoa Binh Lake. During this time, the other group was preparing to roleplay the lifting of an injured body using a stretcher. Here, students were able to practice their communication skills and show physical endurance to be able to safely move someone from A to B with a pretend broken leg. By this point everyone was starting to feel the physical exertion of two days of hiking, kayaking, lifting and cycling! 
In the evening we were treated to some local dance performances and were also entertained by our fellow students (and teachers!) with some singing. Cuong kindly played guitar for a variety of "artists" who performed in front of a wild crowd of 50 people. Well done to those who charmed us! 
Day 3 was our day to return home but we managed to squeeze in the final activities in the morning of mountain biking and the stretcher-lift activity. We then cruised back across the lake and headed home. Everyone thoroughly enjoyed the experience, albeit with some sore and aching bodies. There were some difficult moments for all, where people took on new challenges or were required to overcome fears. New skills were learned and despite some complaining during the toughest moments, students built confidence and resilience on this trip. It was great to leave lockdown behind and see the Grade 11 students make closer bonds with each other. 
See the full photo album HERE.