Anh Thu and her road to the highest IBDP score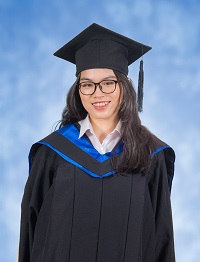 Anh Thu, a brilliant student of Class of 2021, bravely challenged herself with 4 HL subjects instead of 3 in the IB Diploma Programme and managed to achieve an outstanding DP score: 44/45. This is the highest IBDP score of ISV this year. Despite the programme being the most difficult academic journey she had ever set out on, Thu successfully overcame it and proved her intelligence, diligence, creativity and acumen.
Thu shared that the IBDP textbooks were three times as thick as her previous ones, while the material inside was twice as hard. By conquering these enormous amounts of knowledge, Thu gradually organized and balanced her time better and passed the IB Diploma  with flying colors. 
One of the reasons behind Thu's success was her enthusiasm toward the IGCSE and IBDP curriculum, which are the world's most popular international qualifications for secondary students. She loves how students get to choose only six subjects because it allows her to focus on the few ones she truly enjoys, as well as gets her closer to her future career goals. 
The academic environment also has a significant effect on students' studies. Thu shared that she was entranced by the modern facilities, such as the huge two-storey library, the highly-equipped science labs, or the air-conditioned gym, etc. as soon as she first walked into ISV. She immediately knew that she wanted to be a student at ISV. Thu successfully passed the entrance exam and received a 95% scholarship, from which she became acquainted with international education, international qualifications and strived to gain educational opportunities around the world. At ISV, teachers were always helpful and patient with her, and the like-minded peers have become her friends for life.
Throughout the years at ISV, Thu never failed to amaze everyone with her intellectual mind. After receiving the IBDP result, Thu decided that she would take a gap year to embark on independent adventures and grow as a person before receiving further education. Normally, this would not be an easy decision, but Thu was determined to step out of her comfort zone since the IB Diploma programme had made her get used to taking risks, and she is now ready to take on new journeys with open arms. 
When being asked to give some advice for potential students applying to ISV, Thu said, "I would advise scholarship applicants to reflect carefully upon the potential symbiotic relationship between them and the school - what they could contribute to the school and vice versa - and highlight these aspects in their interview. Also, applicants should simply be themselves, as our School Heads would love to see unique, genuine personalities and passions that truly shine during the interview".